Ticket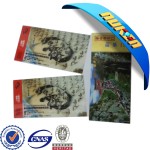 Product Catalogue: Click here to see more images about our products.

Product Detail
3D ticket:
Wedding photo which represents happiness is an important process in marriage. Wedding photo is photographed most by 2D camera so far. The effect of 3D wedding photo is obviously better than 2D. 3D wedding photo uses the principles of optical imaging and binocular parallax. Through the design of computer and cooperation of optical medium, the artistic photos with 3D dynamic effect are produced. The objects in the photo are of vivid and distinct gradation. It seems that we can see the couple's happiness in the photo, which reappears the authentic space sense .
In recent years, 3D wedding photo is also very popular with the young. We can see the 3D effect though it is flat. It has distinct depth of field and lifelike figure. Therefore, it is a little expensive than 2D photo, but people are still willing to pay for it. You only need to offer an ordinary photo, without photographing by 3D camera. Nuken can give you a unique 3D wedding photo which has appreciating value and collection value.
With its unique creative spirit, Nuken always provides excellent service for all customers. We have first-class technology, talents, and equipments to guarantee all new couples beautiful 3D wedding photo.
Email to Nuken
Other products from Nuken