Luggage Tag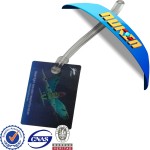 Product Catalogue: Click here to see more images about our products.

Product Detail
The Lenticular Luggage Tag is CMYK offset printing and laminated with a 75 lpi Lenticular lens. An PET lenticular picture window on the back holds a standard size business or ID card (2" x 3 ½" ). ID cards with name and address field are an optional add-on. All Lenticular Luggage Tags are shipped with a flexible plastic loop strap. The dimensions are 4.4" x 2.7" and it weighs 0.3 ounces.
Have you ever lost your luggage at the airport? With this unique Lenticular Luggage Tags, you can easily recognize your bags. Airport safety now requires people to have Luggage Tags with contact information, so why not have one in your own style? This Lenticular Luggage Tags offers brilliant color changing patterns, which can make your luggage easily found.
The Luggage Tag can be attached on backpacks, golf bags, suit cases, travel bags, brief cases, computer cases, or any valuable things that you do not want to lose while traveling. This makes a great gift item.
Features
Vibrant colors create a memorable experience for your audience
Memorable, eye catching 3D Lenticular designs
Includes a clear plastic strap to attach to your luggage
A clear vinyl cover on the back holds a standard size business or ID card (2" x 3.5")
Optional Printed ID cards with name and address field
Lenticular PET prints onto 75 lpi lens
Great 3D Lenticular Gift Item
Email to Nuken
Other products from Nuken